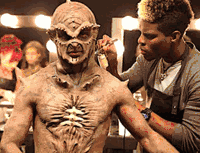 Complete your character with a wide selection of prosthetics that include noses, ears, chins, horns and forehead and brow appliances, wounds and injuries.
Great for adding that authentic realism to any character, these are high quality Latex or Foam Latex pieces created by some of the best professional makeup artists.
Create realistic wounds, scars, or entire characters.
Easy to apply.